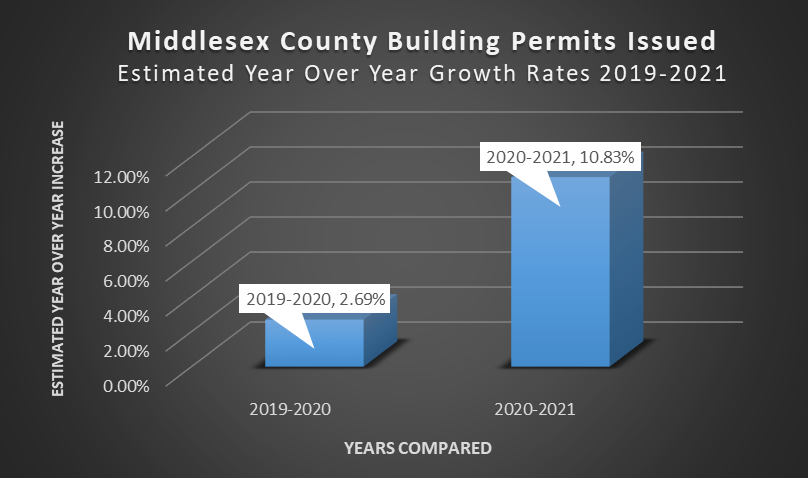 The Covid-19 pandemic has brought a whole host of new and unforeseen challenges, but it has not managed to slow down Middlesex County's recent and impressive building boom. This continued expansion of built infrastructure is illustrated through the County's estimated year-over-year building permit growth rates, both for 2019-2020 and 2020-2021. These estimated growth rates illustrate that in 2020 even as public health measures began to set-in, the estimated number of building permits issued grew by 2.69% from 2019 levels. Furthermore, in 2021 as vaccines became widely available and increased hope for economic recovery began to set in, Middlesex County saw a 10.83% year-over-year increase in the estimated number of permits issued. The provided graph displays a helpful visual illustration of this impressive trend.
We are still finalizing the data with our municipal partners in order to better analyze recent trends. However, what we do know is that this growth in building activity over the last three years points to a consistent increasing demand from businesses, institutions and individuals who continue to illustrate their desire to Invest in Middlesex. As we solidify this data over the next few weeks, we are sure that further trends will continue to emerge. Please stay tuned for more publications as we continue to analyze the data behind this continued and sustained growth; growth that has taken shape during one of the most unprecedented times in recent history. 
Please follow us on Facebook and LinkedIn for more updates to come, and don't forget to check out our recently updated website at investinmiddlesex.ca.