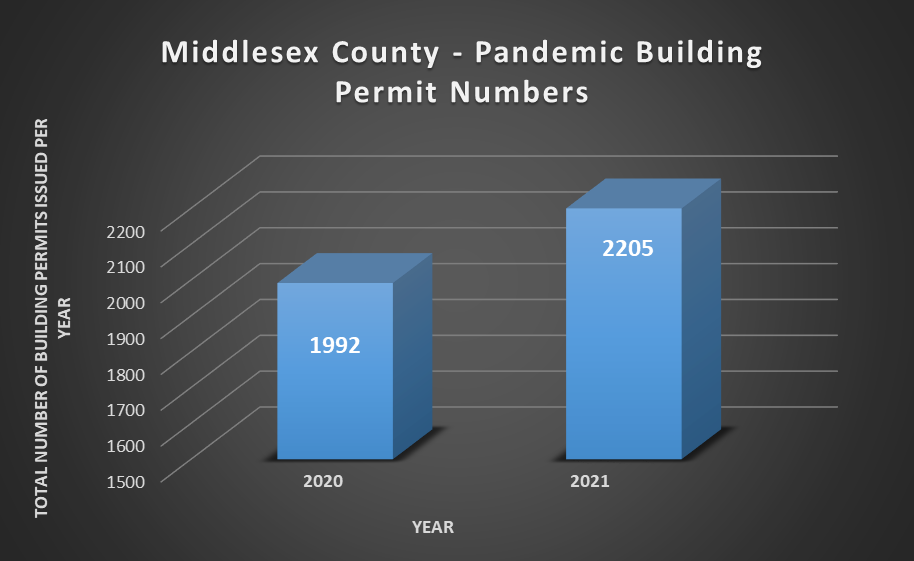 The Covid-19 pandemic has brought many new challenges, but it has not managed to slow down Middlesex County's recent and impressive building boom. Amidst lockdowns and uncertainty, 2021 proved to be an explosive year for construction in Middlesex County; with a total of 2205 issued building permits. This number, 213 permits more than 2020, reflects a record 10.7% year-over-year increase in the number of permits issued. Likely fueled in part by low interest rates, and a desire for more space amidst pandemic lockdowns, this increased number of permits, means new revenue for local municipalities in the form of permit fees. Of course this growth also brings with it a host of pressures on infrastructure and staff resources at the municipal level. However, through innovative approaches such as sharing the services of a Chief Building Official between municipalities, and by investing these new revenues strategically, local municipalities and the County are finding new ways to meet demand amidst the unprecedented development taking place.
While 2021 brought a stark increase in the number of building permits issued, even greater economic impact can be seen in the year-over-year growth rate in annual construction value. In 2021 Middlesex County saw construction values surpass half a billion dollars, reaching $558.4 million (Village of Newbury figures excluded); a 39.7% increase from the year before. This means that while the number of permits increased significantly from 2020-2021, the construction value associated with those permits increased at almost 4 times the rate of the permits themselves. The clear result of Covid-19 supply chain issues and inflation; this is nevertheless a considerable boost to the local building sector.
In order to help manage this growth in a sustainable way, Middlesex County's Economic Development Department has taken an interdisciplinary approach and is in the process of aligning our 2021-2025 Economic Development Strategy, with Middlesex County's Official Plan. This approach will allow us to consider the impacts of our impressive growth, in order to continue to address important priorities like keeping housing affordable, and responding to the demand for employment lands while maintaining our rural landscape.