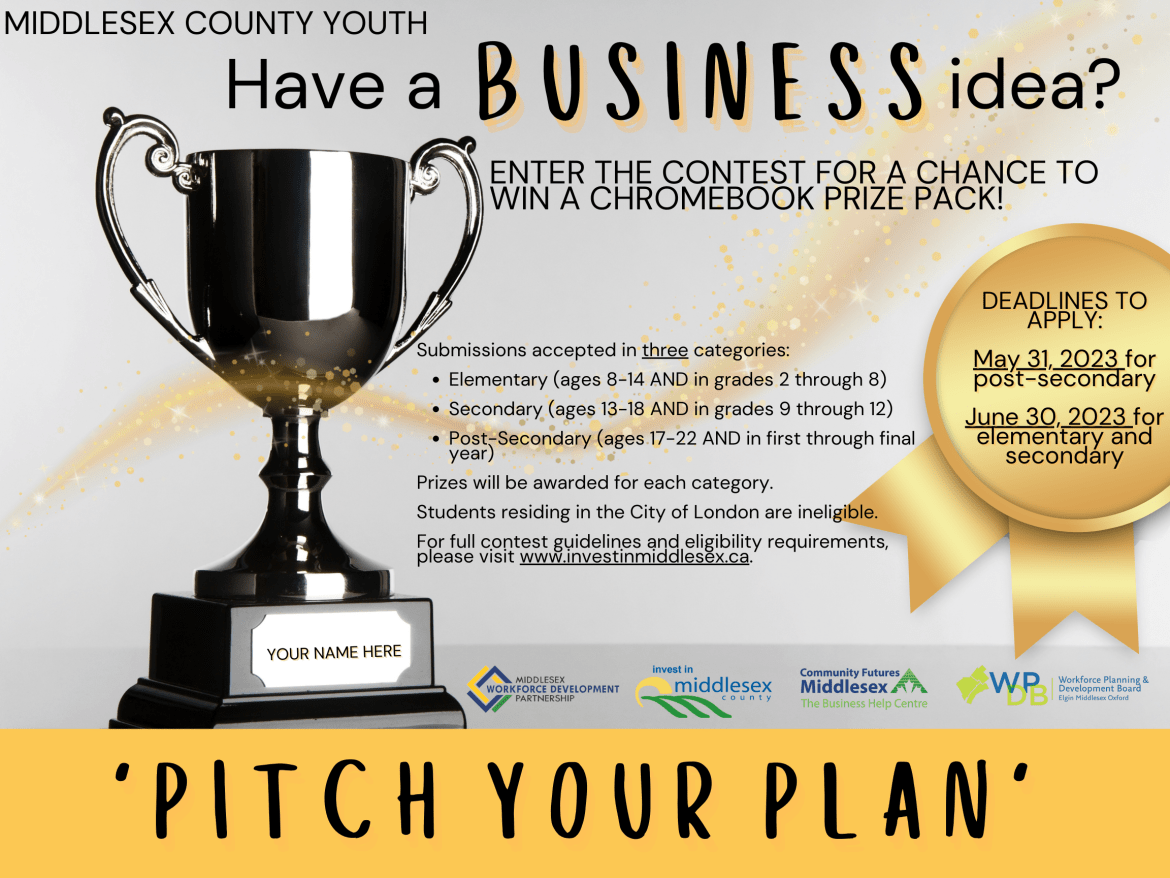 Engaging the youth in Middlesex County and encouraging potential entrepreneurs is one of the best ways to kick start new innovative and creative businesses in the area. As part of the County's Workforce Development Partnership Initiative, a contest is being launched starting May 1, 2023 for young entrepreneurs currently enrolled in Elementary (8-14), Secondary (13-18) and Post-Secondary (17-22) School to submit their Business Plan Concept including a Business Pitch Video. In order to be eligible to apply, you must be a resident of Middlesex County (City of London students are ineligible).
A Business Plan is critical to complete before you launch a business. Teaching potential entrepreneurs at a young age will prepare them to have the proper mindset to be successful if they wish to become a business owner. Some of the core components of writing a business plan include building out the company profile, sales and marketing, operations, and financial forecasting. It is very important to understand the many aspects that are involved which may include hiring staff, covering expenses and operating in a competitive marketspace that can be overcrowded in certain business sectors.
Ultimately, there are many factors that can be out of a business owner's control and professional training on how to adjust to these conditions and remaining competitive is a key driver to success. Over the past couple of years the shift in e-commerce, global trade and change in the end consumer's purchasing behavior has made a big change.
Middlesex County's Economic Development Department and workforce partners want to see local businesses succeed. "One of the best ways to mitigate the risk of business failure is to take the time to consider the challenges and plan for success in advance" says Cara Finn, Director of Economic Development and Co-Chair of the Middlesex Workforce Development Partnership.
Pitching a business plan is important for building confidence, and conveying your message of what you want to do is an important skillset. Developing this at a young age can help prepare for the future and launch a successful company. All of this will help in avoiding potential downfalls on knowing how to deal with different challenges that may arise while running a business.
Bring forth your innovative ideas as the contest opens on May 1, 2023. Three prizes will be awarded with one in each category. The deadline to apply is May 31, 2023 for Post-Secondary School students, and June 30, 2023 for Elementary and Secondary School students.
The contest entry form, full contest guidelines and eligibility requirements are available here!