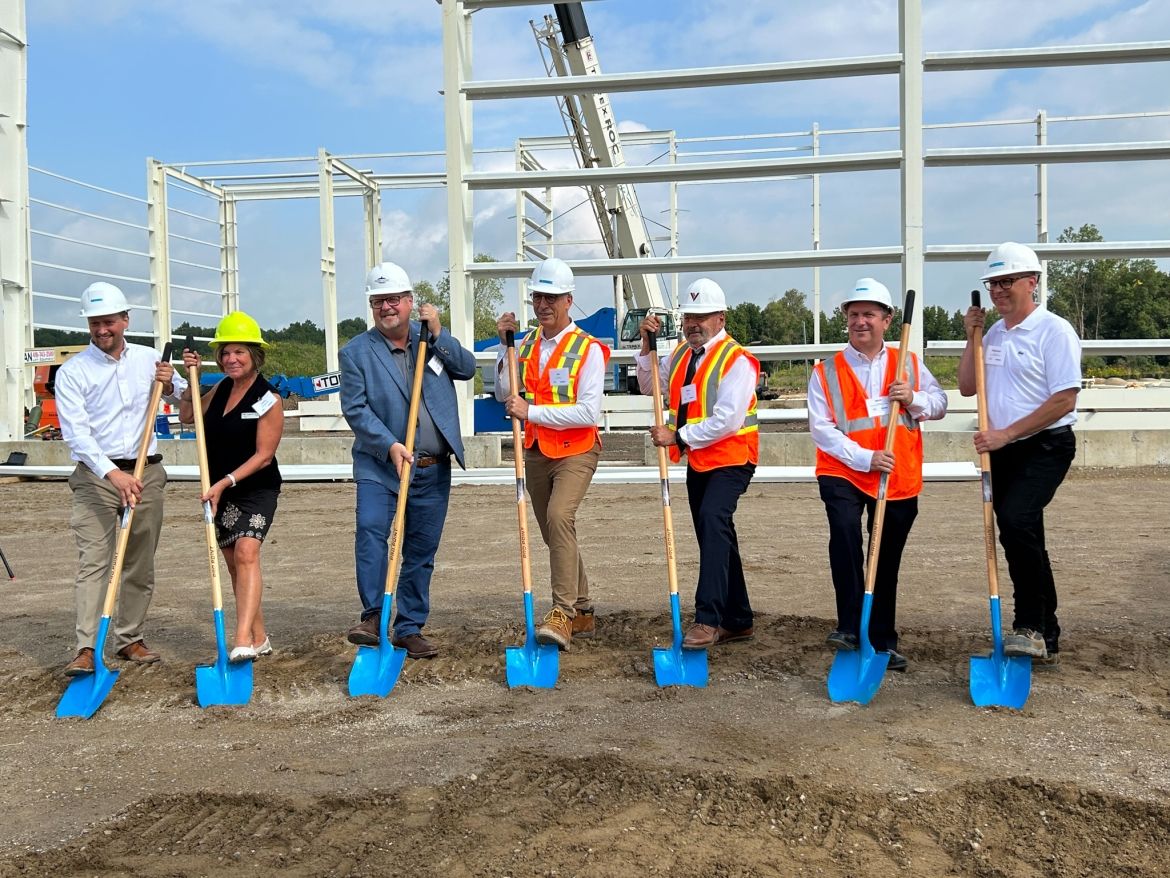 Middlesex County is pleased to announce that Quebec based manufacturing company Norbec is breaking ground in Strathroy-Caradoc.  Norbec has been manufacturing insulated metal panels and walk-in coolers/freezers since 1982 and continues to expand their operations. With existing plants in Boucherville and Saint-Hyacinthe, Quebec the company is building their newest plant location in Strathroy.
The new location is strategically positioned in the Molnar Industrial Park in close proximity to Highway 402; an ideal site given the access to the U.S. Midwest, GTA and Ontario market. The ultramodern facility will improve Norbec's production and distribution processes to serve the booming construction market. The new plant will also result in the creation of as many as 70 high -skilled jobs bringing the company's total workforce to more than 400. 
"I'm delighted for today's ground breaking occasion. It is a dream come true for Norbec. We have been working on this project for several months. Everything has been very smooth working with Middlesex County and the Municipality of Strathroy-Caradoc, in which we are proud to be a part of the community. Overall we looked at over 100 sites and we are pleased to have made the right decision. The Rural setting and proximity to the GTA attracted us to help make our final choice" says Jan Lembregts, Norbec President.
"We understand that site selection for a project of this magnitude is both competitive and complex.  It was, therefore, the absolute pleasure of the County's Economic Development team to host Norbec and their consultants during the site selection process. Providing not only a site tour, but introducing the executive team to our provincial and municipal colleagues, as well as local stakeholders in transportation, utilities, and employment services, was key to showcasing the collaborative approach that our County takes in facilitating economic development" says Cathy Burghardt-Jesson, Middlesex County Warden.
"We are absolutely thrilled for Norbec choosing their location in the Municipality of Strathroy-Caradoc. Developments like this create new jobs not just for the present but also prepare us for the future. I would like to personally thank the Norbec team, staff at the Municipality of Strathroy-Caradoc, and the Middlesex County Department of Economic Development and Tourism for all making this happen. Strathroy-Caradoc is open for business and we want to make sure everyone is aware of that". Says Mayor of Strathroy-Caradoc, Colin Grantham.
"Norbec expanding into Middlesex County is a significant investment for the area. These types of developments generate additional tax revenue which further strengthen the Economic viability of the County, but also showcase why businesses should invest in Middlesex. Additional new developments create opportunities for existing businesses and help build a strong ecosystem crucial for a community to thrive" says Cara A. Finn, Director of Economic Development, Middlesex County.
The primary products of Norbec revolve around insulated metal panels used for food processing applications, fabrication facilities, refrigerated warehouses and distributions centres. The manufacturing sector is the second top industry in Middlesex County with close to 6,000 jobs. The County is also home to top-quality local food producers, food processors and agricultural technology firms which Norbec may bring potential opportunities to the products that Norbec manufactures.
This is an exciting time for Middlesex County with new businesses opening and skilled jobs being created. The facility is projected to be fully operational in the summer of 2024.