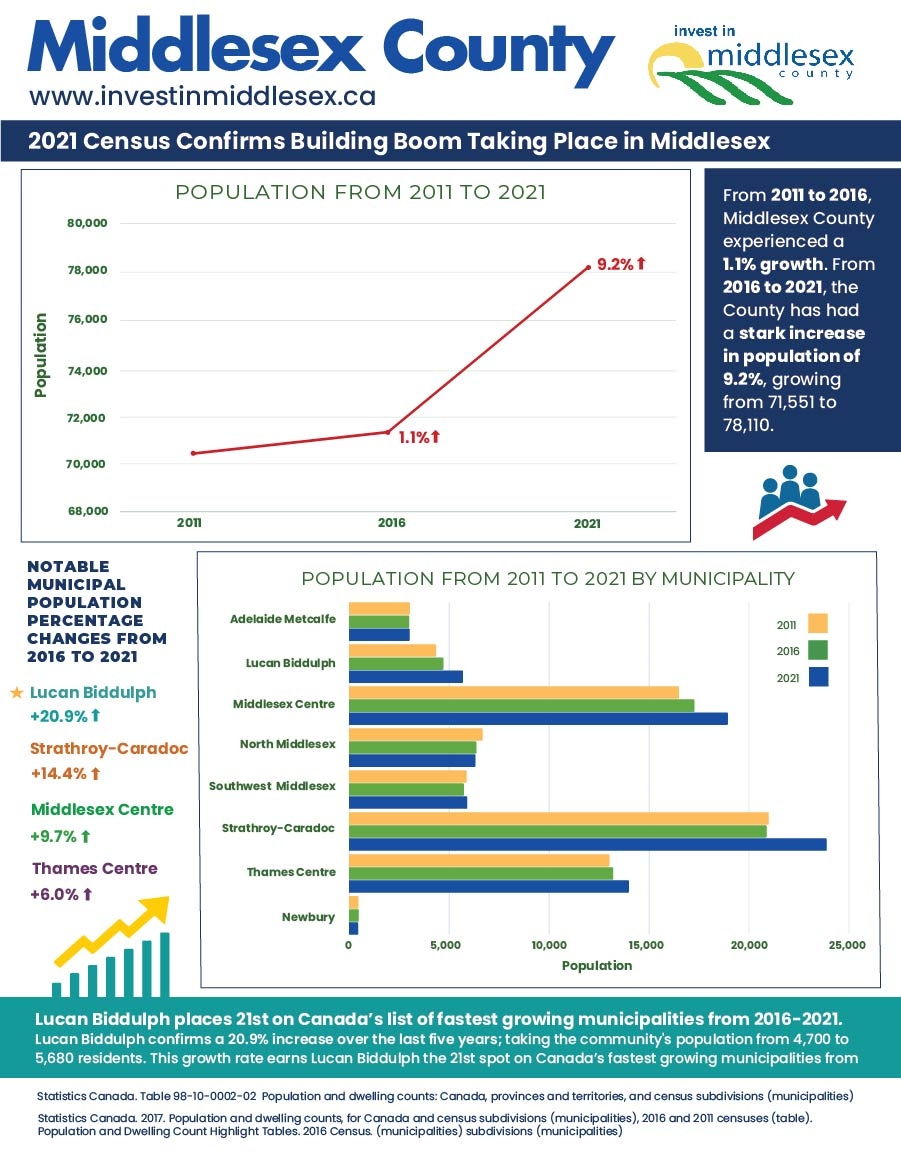 On February 9th, 2022, Statistics Canada released 2021 Census of Population data, showing Canada's growth in population from 2016 to 2021. Middlesex County has had a population increase of 9.2% during this time going from 71,551 to 78,110; a stark increase over the 1.1% in growth the County experienced from 2011-2016.
Taking the top contender for growth experienced in Middlesex County is the Township of Lucan Biddulph with the Census confirming a 20.9% increase over the last five years; taking the community's population from 4,700 to 5,680 residents. This growth rate earns Lucan Biddulph the 21st spot on Canada's fastest growing municipalities from 2016 to 2021. And they aren't the only community to watch with high municipal growth rates being reported across Middlesex; most notably Strathroy-Caradoc at 14.4%, Middlesex Centre at 9.7%, and Thames Centre at 6.0%.
These figures, while just released publicly are only confirmation of the increase in development being tracked by municipal staff. Since 2019, Middlesex County has seen an impressive building boom and this expansion is illustrated through the County's estimated year-over-year building permit growth rates. In 2020, the estimated number of building permits issued grew by 2.69% over 2019, and in 2021, Middlesex County communities were estimating a striking year-over-year increase of 10.83% in the number of permits issued.
"Middlesex County has experienced a decade of consistent positive growth; reinforcing that this is an attractive place to live, work and do business in," says Middlesex County Warden, Alison Warwick. "We are confident in the investment Middlesex County has to offer residents and developers alike and we look forward to further growth in the years to come," adds Director of Economic Development, Cara Finn.
Contact Information:
Cara A. Finn, Director of Economic Development
519-434-7321 Ext. 2347
-30-